Hello friends. For quite some time now, I have been collecting pictures of "stringed-instruments" in my Pinterest account.  If you click here:  Stringed Instruments  you will see a variety of creative instruments with strings from across the world.  If you like what you see you can click the follow button and you will receive notifications every time I add a photo.  Most of you are musicians and wonderful listeners as well.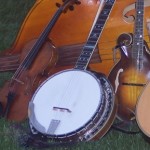 If only our instruments could talk!  What would they say?  I know what my banjo would say to me >>>> Play me more!  This is one reason, I always keep my instrument out of the case and setting on a stand in my home office.  Can you figure out what your instrument would say to you?  If I use my imagination, my instrument might also say something like:  "I  wish you would clean me up a bit and change my strings it would create a better sound for you".   Or maybe it might say:  "It sure is dark in this case, I wonder if my owner really cares to shed some light on me".   Oh yes, how about:  "I wish you would get a new belt, that buckle is scratching me where I don't itch".   Or how about, "I wish you would wash your hands so you don't dirty up my neck or head".
I hope you have enjoyed the instruments photos.  I love being creative!  Have a great week and hope so see you at the next jam.
Bill