.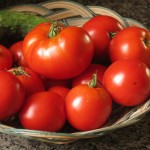 Hello fellow bluegrassers.  You may be wondering what home grown tomatoes has to do with bluegrass.  Actually, there is a song called Home Grown Tomatoes written by Guy Clark.  I was first introduced to this song by Joe Wilkerson who is a regular attendee at most of the jam around the KC area.  The video below is a rendition by Jay Ungar and Molly Mason.
IMPORTANT REMINDER: Please check out the NEW "Buy or Sell" page.  You can also advertise any instrument or accessories of your own.  Just let me know by email at: banjobarron@sbcglobal.net
Hope you enjoy the video below.  By the way, the home grown tomatoes in the image is from my own garden.  The brand is "early girl"………….so why did it take so long?